---
Important End-of-the-Year Dates
5/26 Chromebook Check In Per 1-4 ELA classes (REMEMBER YOUR CHARGER!)
5/26 Chromebook Check In Per 5-7 ELA classes  (REMEMBER YOUR CHARGER!)
6/2 Last day of school for 7th graders!
6/3 Last day of school - NOTE START/END TIME - 8:00 am - 12:00 pm - bussing provided, but no lunch served
Kim Player is the Jordan District Teacher of the Year!
Congratulations, Mrs. Player!  We are so lucky to have you at SoJo!!
Orchestra Students Perform Original Composition
Jordan District highlighted some of our students in a recent post.  Go here to check it out!
AP Human Geography Summer Project
If you are taking AP Human Geography next year, click here to get all the materials you need for the summer project!
Ms. J. Johnson and Ms. Carroll Got Awards!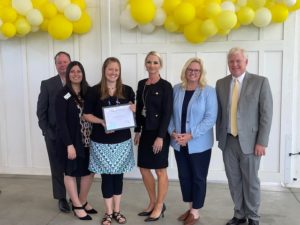 Congrats to Ms. Jerusha Johnson who has been recognized as the South Jordan Chamber  Teacher of the Year award for her dedication, commitment, and love for her students.  She is a model teacher and is celebrated for her successful program and deep connections with students.
Also, Torey Carroll, our Attendance Secretary, has received the Outstanding Education Support Professional Award!  We are so lucky to have these ladies at SoJo!
NJHS is Accepting Applications for 2022-23
If you want to join NJHS, fill out an application here!  Talk to Mr. Freeman if you have questions!
Important End-of-Year Dates 2022:
5/20 Student Locker Cleanout - return SJMS items to the library
5/23 ALL textbooks and library books DUE
5/25 Last day to purchase a Memory Book online
5/26 Chromebook Check In (REMEMBER YOUR CHARGER!)
5/30 Memorial Day - no school
6/1 Memory Book distribution at the end of the day CASH SALES ONLY $35.00
6/2 Lagoon Day for 9th Grade; Field Day for 7th & 8th Grade (7th Grade's last day)
6/3 Last day of school; Early release at 12:00 - bussing provided, but no lunch served
National Chinese Speech Contest

Congrats to Rebecca Maguire, who got a 2nd place in the  2022 National Chinese Speech Contest (Immersion group grade 9-12)!!  Check out the article at the Jordan District website!
District Advanced Orchestra
Enjoy these videos of the District Advanced Orchestra Music Performance Assessment, featuring our own SJMS Sinfonia Orchestra!
Even though Mr. Munro asked the adjudicator to be very picky in scoring, she still awarded them the highest rating possible. Mr. Munro is extremely proud of their polished and emotional performance and feels very lucky to be their Orchestra Director.
Congratulations to our Advanced Orchestra for a stellar performance!
Jordan Education Foundation Teacher of the Year
Congrats to Ms. Player, the 2022 JEF Teacher of the Year!
Teacher License Information
The Utah State Board of Education may grant an educator one of the following education licenses:
Professional Educator License – a license issued to an individual who has demonstrated all of the State established competencies to be an educator.
Associate Educator License – a license issued to an individual who has met a minimum set of educator requirements and is completing all professional educator requirements to receive a Professional Educator License.
Local Education Agency (LEA)-specific Educator License – a license issued to an individual, approved by the local Board of Education, who has met locally defined competencies to be an educator.
An LEA-specific license area or endorsement may include:
Out of State and Internationally licensed educators completing Utah licensing requirements.
Educators waiting for university license recommendations.
Educators with expired Utah licenses.
Educators working towards an Associate license area/endorsement.
Career and Technical Education educators completing skills testing.
Educators waiting to begin a university licensure program.
Schools may employ individuals holding LEA-specific Educator Licenses, as well as Professional and Associate Educator Licenses, as outlined below based on the employee's FTE:
| | | | | |
| --- | --- | --- | --- | --- |
| Location | Type | Associate | LEA Specific | Professional |
| South Jordan Middle | Middle School | 0% | 1.6% | 98.4% |
6th Graders Who Want to Take Honors Math 8
Take the Placement Test here!
Important Information!
We will be using Canvas school wide this year.  Parents, you can also log on to Canvas as an observer for your students--instructions for doing that are here.
Our new bell schedules for 2021-22 can be found under the student menu (or click here).
Chromebook information, including damage costs, can be found here or under the Parents/Community menu.
---
---
Smith's Grocery Partnership with SoJo Middle School
Smith's will donate 0.5% of eligible purchases.
Smiths Food and Drug (PDF)