---
6th to 7th Grade Registration Tutorial
Parents,
Click the link below to register your 6th grader for 7th grade!  It will be open from January 13 @ 3:30 until January 22 @ midnight.
Registration Dates & Info for 2021-22
Registration for next year is coming up!  Here are the dates:
6th to 7th Grade: January 13 - 22
7th to 8th Grade: January 27 - February 2
8th to 9th Grade: February 4 - 10
If your student is interested in being in percussion class next year at South Jordan Middle there is a mandatory meeting for students and parents on Monday, January 11th from 5:00-7:00 p.m. in the band room at SOJO.  Unfortunately, there are limited spots in the percussion class and due to the competitive nature of the class students need to have completed two years of piano lessons to be eligible.  If interested students are unable to attend or don't have the piano background necessary, please e-mail Ms. Johnson.  jerusha.johnson@jordandistrict.org
Peer Tutor Applications (Due to Ms. Williams Jan 22!)
Electives: Know your options!
Check out the Youtube playlists below to learn about the different electives!  Click the list icon in the upper right corner of each playlist to skip around to the other videos.  Keep checking back--more videos will be added later!
8th Grade Electives:
9th Grade Electives:
Free Social & Emotional Wellness Screening
See the flyer below for information!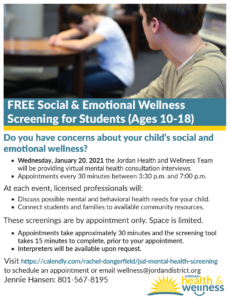 Donations!
Thank you to the wonderful people in our community who donated $600 in gift cards as well as food and clothes for families in need!
Orchestra Concert Videos
Click here to see the program and videos from our wonderful Orchestra!
Congratulations to Counseling Center!
They completed their review with the Utah State Board of Education with exemplary honors!  Way to go!!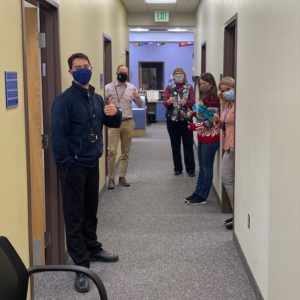 Miss the Mindful Minute?
Go here for some activities you can try!
A Message from the Admin
Dear students,
We miss you!  Hang in there!
More Virtual Learning Info
Here is the bell schedule for virtual learning: Covid Bell Schedule
Expectations for Virtual Learning:
Each period, go to your teacher's class on Canvas; there will be a link to join a Zoom session or Google Meet
Teachers will be taking attendance
Keep your cameras on for attendance, and then at your teacher's discretion
Your teacher will be available to answer questions throughout the period
Students can reserve library books online, and pick them up during lunch any day November 16 - 19.
Everyone has A Lunch--see bell schedule
Soft Closure
Dear Parents and Guardians,
A dramatic increase in active cases of COVID-19 has been identified within South Jordan Middle School.
After discussing the circumstances in an emergency Board meeting, the Jordan School District Board of Education has determined that it is necessary for South Jordan Middle School to move to online, virtual learning for two weeks beginning Monday, November 16.
To allow students and staff time to prepare for online learning, there will be no in-person or virtual classes Thursday, November 12. This includes staff, although staff may choose to come into the building as long as social distancing can be observed.
November 13th will be a normal Friday schedule , with buses running usual routes. Virtual learning begins Monday, November 16th through Thanksgiving break, resuming back to school Monday, November 30th.
Starting November 16th ending Tuesday, November 24th, Mondays through Thursdays will follow a synchronous schedule. This means students should plan on logging in to class at the normal class time based on our current bell schedule.  More information regarding the login process will be delivered this week.  For virtual learning, we will not hold PROWL.  We will follow a regular class schedule Monday through Thursday, with the exception of all students/staff taking A lunch from 11:30-12:10.
Students will not be allowed in the building Thursday, November 12th. Friday, November 13th, students may pick up items needed for virtual learning Friday, between 10:00-12:30.
Staff will be allowed in the building, if needed, to gather instructional materials.
All classes will be held virtually beginning Monday, November 16.
In-person classes will resume on Monday, Nov. 30.
A grab and go lunch will be available on the east side of the building during A lunch only plus 10 minutes (11:30-12:10)  beginning Monday, Nov. 16th.
COVID-19 case counts at all schools and buildings in the District can be found on the Jordan COVID-19 Dashboard. The dashboard can be accessed at movingforward.jordandistrict.org
Thank you for your cooperation and understanding during this time.
SJMS Administration
Important Information!
We will be using Canvas school wide this year.  Parents, you can also log on to Canvas as an observer for your students--instructions for doing that are here.
Our schedule for Fridays can be found under the student menu (or click here).
For Covid-19 info, including our re-opening plan/principal assurances, please click the Covid-19 button above! (or just click here)
Chromebook information, including damage costs, can be found here or under the Parents/Community menu.
2020-21 School Year Info
Click here to see summer project information (Reddish, Ogden and Lawes)
All incoming 7th grade students must have these vaccinations: 1 Tdap booster, &  1  Meningoccocal.  You can fax vaccination records to 801-412-2930 or email them to our attendance secretary:  torey.carroll@jordandistrict.org
Click here to see more info about the upcoming school year!  (Peer tutor applications, 9th Grade Honors info, etc)
---
---
Smith's Grocery Partnership with SoJo Middle School
Smith's will donate 0.5% of eligible purchases.
Smiths Food and Drug (PDF)